This page is normally for our premium subscribers only.
We've given you 1 free view of a price guide page.
Join our premium membership to view further price guide pages.
1942 Ford Universal Mk I, No. 3 Full-Track Carrier
None of this model have sold at our auctions.
Check back soon to see if one has gone under the hammer.
Providing you reliable and trustworthy info is priority #1. We couldn't match this car against our list of models so we've hidden some elements on the page. We're continually updating the site, it'll be sorted in a jiffy.
Exchange Rate Guidance: They're calculated based on exchange rates on the day of the auction. Converted from local currency to GBP, USD and EUR
RM Sotheby's - The National Military History Center
AUCTION
AUCTION DATE
1942 Ford Universal Mk I, No. 3 Full-Track Carrier
LOT DESCRIPTION
PRICE GBP
PRICE USD
CHASSIS NUMBER
PRICE EUR
ODOMETER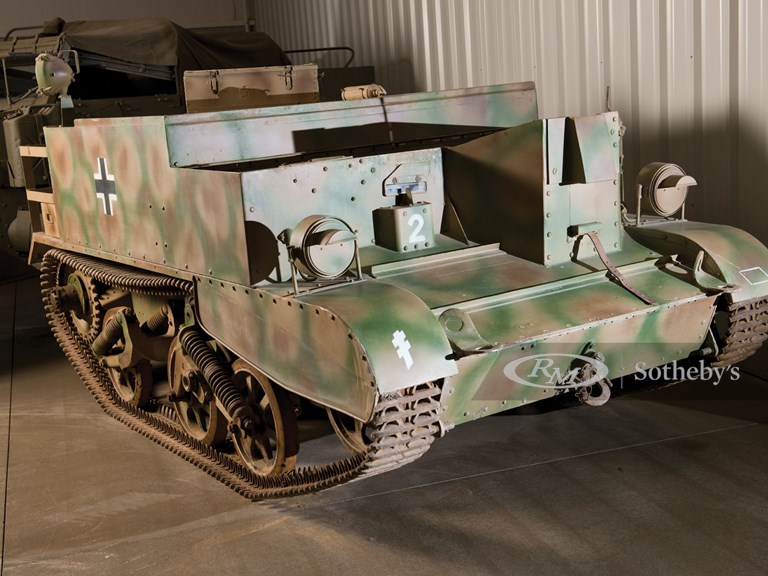 All military vehicles and artifacts offered in this sale are sold "As Is" and "For collector purposes only". These military vehicles and artifacts should never be loaded and/or fired with any ammunition. We make no warranty and/or representations as to the suitability or fitness of these items for use. By purchasing military vehicles and artifacts you hereby and irrevocably waive any and all claims against Auctions America by RM, Inc. and agree to indemnify and hold harmless Auctions America by RM, Inc. from any injuries or death associated with these military vehicles and artifacts. Please note, there may be an associated licensing fee based on the location of licensing, and bidder must satisfy himself as to all licensing and import requirements in his home state or country. Please Note: Information regarding these museum display vehicles was provided by the National Military History Center and has not been independently verified by Auctions America by RM ("AA"). As such, AA does not verify, warrant or guarantee any of this information. Prior inspection and research by the buyer is highly encouraged and recommended. ATTENTION: Buyers are responsible for securing transportation and moving/loading of lots. Lot may be left on display indefinitely in the museum free of charge with a signed loan agreement form. Lots are sold as is, where is. Please note this is being sold on "Bill of Sale" only. Manufacturer: Ford Motor Co. of Canada - Windsor, Ontario Production Year: 1942 Engine: Ford, liquid-cooled, 85-hp eight-cylinder Transmission: Four-speed: four forward, one reverse Length: 12-feet, 4-inches Width: 6-feet, 11-inches Height: 6-feet, 1-inch Weight: Approximately 5-tons (loaded) Armor: Front hull: 10-mm, hull sides and rear: 7-mm Armament: NONE on this example - Designed to be fitted with a .303 caliber Bren light machine gun Maximum Road Speed: 30-mph Crew: Up to six Markings: Captured vehicle as used by the German Army, Light Panzerjaeger (tank-hunter) Unit The British Army's demand for tracked carriers of the Bren and Scout types as well as other specialized roles reached a peak in 1940. To meet the ever growing demand, the British Army proposed that all future vehicles in this class be built to a standardized design, any special requirements to be met by minor modifications. Designated Carrier, Universal, Mark I, this vehicle remained (with minor production changes) the standard combat carrier throughout World War II. The general construction of the hull of the Universal was a combination of both the earlier Bren and Scout carriers, but with armor protection on both sides, the earlier vehicles only having armor plate on one side---right on the scout, left on the Bren. The Universal now had two rear compartments, split by the engine. Armament varied from the standard Bren light or Vickers medium machine gun, .55 caliber Boys anti-tank rifle, and a popular field conversion utilizing the US built M2 .50 caliber machine gun. A mortar carrier and an armored observation post version were also produced. This example is not fitted with armament. Britain produced over 40,000 units, with Ford of Canada, as displayed, contributing about 29,000. The US built 14,000 of the similar Ford T16.
CATALOGUE DESCRIPTION FROM RM SOTHEBY'S
The Classic Valuer has X of this car on the site...
The average price of this car is...
Check out the trend line on the graph above - the dotted grey one.
It'll show you the price trend previously and where it might be going.
Because, well, why not...?

Thomas Edison invented an electric pen in 1876 that was later adapted to become the first tattoo machine in 1891.