This page is normally for our premium subscribers only.
We've given you 1 free view of a price guide page.
Join our premium membership to view further price guide pages.
None of this model have sold at our auctions.
Check back soon to see if one has gone under the hammer.
The dotted grey line shows you this model (Ferrari - Testarossa's) trend over time. Each circle represents a sale.
The details of this Ferrari Testarossa
Exchange Rate Guidance: They're calculated based on exchange rates on the day of the auction. Converted from local currency to GBP, USD and EUR
RM Sotheby's - Amelia Island
AUCTION
AUCTION DATE
LOT DESCRIPTION
PRICE GBP
PRICE USD
CHASSIS NUMBER
PRICE EUR
ODOMETER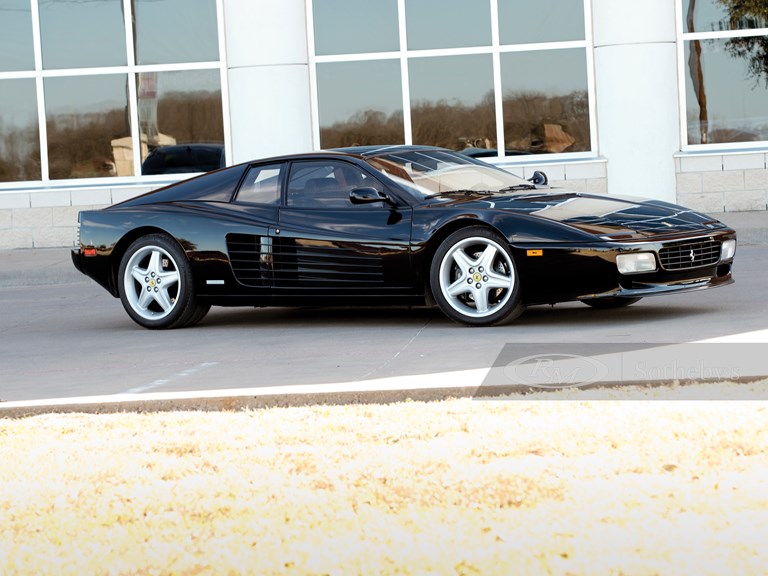 428 hp, 4,942 cc horizontally opposed DOHC 12-cylinder engine, Bosch K-Jetronic fuel injection, five-speed manual gearbox, four-wheel independent suspension with unequal length wishbones, coil springs, and anti-roll bars, and four-wheel hydraulic disc brakes. Wheelbase: 100.4 in. The replacement for Ferrari's Testarossa, the 512 TR, was introduced for the 1992 model year as a response to the launch of Lamborghini's Diablo in 1990. The "512" refers to the engine's displacement of 5 liters through 12 cylinders, and the "TR" refers to a shortened version of the name Testarossa. The car was well acclaimed by the motoring press right from its introduction, and the legendary Phil Hill wrote in Road & Track that "lurking under that bodywork is about three quarters of an F40 with all the conveniences of any modern GT." As the result of feedback from Testarossa customers over the course of that car's seven years of production, special emphasis was placed on the interior of the 512 TR in order to improve comfort and ergonomics to make the car more comfortable for longer drives, with changes being made to the steering wheel design and seats. Visually, the exterior remained largely the same, while the car was given a nose that resembled that of Ferrari's 348, which had been introduced three years earlier. The Testarossa's horizontally opposed, 48-valve, 12-cylinder engine gained Nikasil cylinder liners, Bosch Motronic engine management, 10.0:1 compression, and a more efficient exhaust system. Power output rose from 390 horsepower to 428 horsepower (SAE), and its top speed increased to 195 mph. The gearbox was redesigned to shift more smoothly with a single-plate clutch, the enlarged brake discs were cross-drilled, and the steering was quickened. This specific 512 TR is a late-production 1994 model that has been equipped with the highly desirable factory-upgraded differential. The car is finished in a black exterior and has a matching black interior. It was delivered new to the U.S., and today, it is being offered from its third enthusiast owner. It received a timing belt service in the last year, and it has only accumulated 300 miles since the completion of the service. This 512 TR has truly been pampered its entire life, as it has just 13,000 miles showing on its odometer, and it still retains all of its original books, tools, and manuals. There is no doubt that the 512 TR is one of the icons of late '80s and early '90s automotive design. As the model is now over 20 years old, and only 2,261 examples were produced worldwide over four years of production, it has become increasingly difficult to find low mileage examples in exceptional condition. This example checks all the right boxes, considering its low mileage, recent full service, and immaculate condition, and it has never been subject to an accident or bodywork of any kind. It looks truly sinister, with its black on black finish, and it has an indescribable presence on the open road.
CATALOGUE DESCRIPTION FROM RM SOTHEBY'S
The Classic Valuer has X of this car on the site...
The average price of this car is...
Check out the trend line on the graph above - the dotted grey one.
It'll show you the price trend previously and where it might be going.
Because, well, why not...?

The largest stadium in the world is the Rungrado 1st of May Stadium in North Korea. It can hold up to 114,000 spectators. It covers 51 acres and is 197 feet tall.