This page is normally for our premium subscribers only.
We've given you 1 free view of a price guide page.
Join our premium membership to view further price guide pages.
None of this model have sold at our auctions.
Check back soon to see if one has gone under the hammer.
The dotted grey line shows you this model (Ferrari - F50's) trend over time. Each circle represents a sale.
The details of this Ferrari F50
Exchange Rate Guidance: They're calculated based on exchange rates on the day of the auction. Converted from local currency to GBP, USD and EUR
AUCTION
AUCTION DATE
LOT DESCRIPTION
PRICE GBP
PRICE USD
CHASSIS NUMBER
PRICE EUR
ODOMETER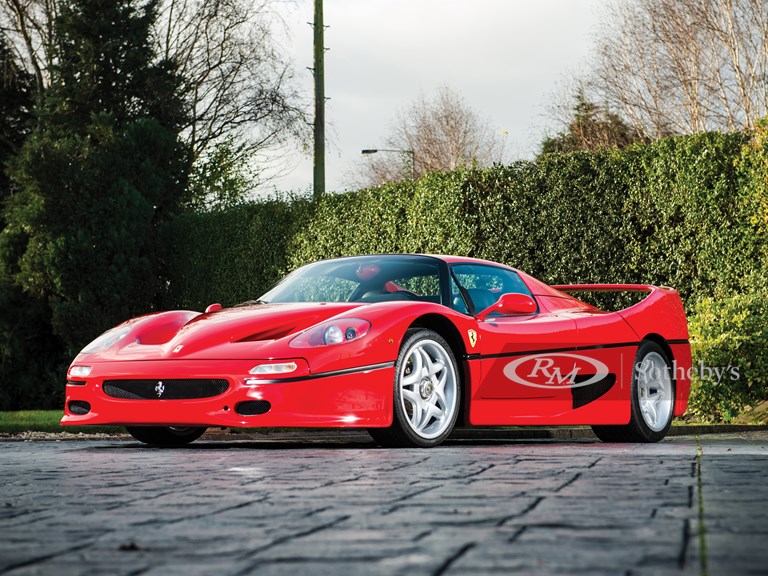 The Ferrari F50 was unveiled at the Geneva Salon in 1996 to celebrate the Scuderia's 50th anniversary. The accompanying press packs exclaimed the car to offer "Formula 1 for the road" and under the careful guidance of Paolo Martinelli for power-train and Carlo della Casa for suspension and brakes. The result was undeniably faithful to the design brief. Underneath the carbon fibre bodywork sat a high-revving 4.7-litre V-12 engine, which was directly related to the unit that powered Alain Prost to five victories in the 1990 F1 World Championship. As in Prost's Ferrari 641 Formula 1 car, it was also employed as a stressed member of the chassis, a first for a road-going Ferrari, which enabled extreme torsional rigidity and substantial weight saving. The carbon fibre tub, to which the engine was bolted via solid mounts, weighed just 102 kg and housed an aircraft grade Sekur bag fuel tank, whilst the dampers from Bilstein were independently active to improve the performance of racing-inspired pushrod suspension. The 'no compromise' approach was even extended to the suspension bushings; anything rubberised was considered parasitic to feedback and so solid rose joints were employed throughout. Whilst early contemporary reviews questioned the performance of the F50 compared to the F40, the numbers are irrefutable: 513 bhp and over 200 mph flat out in a chassis weighing just 1,230 kg, with a torsional rigidity figure in the region of 25,500 lb-ft per degree. The result was a lap which was a full four seconds quicker than the F40 around Fiorano. This particular F50 was produced in February 1996 and was originally sold through Charles Pozzi on 19 March of the same year. During its life in France, it was serviced regularly by its supplying dealer and was shown at various meetings, including the Ferrari Days at Spa-Francorchamps. In 2001, the car revisited Charles Pozzi for its 10,000-km major service before a further major service took place in May 2005 at 20,000 km at Aux Chataux du Sud-Ouest. From 2005 the car has been used sparingly and in 2013 it was brought to the UK. Since then it has been serviced in 2016, 2017 and 2018 by Greypaul Ferrari of Nottingham under the stewardship of three further owners. It is worth mentioning that it also benefits from a new clutch, which was fitted along with new tyres in 2015 by renowned specialist Bob Houghton. Presented in pristine condition and appropriately specified in Rosso Corsa over Nero, it is accompanied by its original books, hard roof, soft roof, roll hoops, fitted luggage set, flight case and Classiche Binder, which confirms that it still retains all of its original major mechanical components, including engine and gearbox. Very few cars, either before or since the F50, offer such a compelling combination of thoroughbred performance and engineering pedigree, not to mention scarcity; it is rare that such a fine example is offered for sale. • Moins de 21 850 km d'origine • Livrée neuve en France via Charles Pozzi • Accompagnée de ses bagages, de sa malle de transport et de son hard-top d'origine, entre autres accessoires • Certification Ferrari Classiche Le Ferrari F50 a été dévoilée au Salon de Genève 1996 à l'occasion du 50e anniversaire de la Scuderia. Selon le dossier de presse, ce nouveau modèle était considéré comme "une Formule 1 pour la route", avec un groupe motopropulseur conçu sous l'autorité de Paolo Martinelli, la suspension et les freins étant réalisés par l'équipe de Carlo della Casa. Le résultat était indéniablement fidèle au cahier des charges initial. Sous la carrosserie en fibre de carbone se trouvait un brillant V12 de 4,7 litres, directement issu du moteur qui avait permis à Alain Prost de remporter cinq victoires lors du Championnat du monde de F1 1990. Comme dans la monoplace Ferrari 641 de Prost, ce moteur était porteur et apportait une fonction structurelle au châssis, une première pour une Ferrari de route : cette conception entraînait une exceptionnelle résistance à la torsion, tout en limitant le poids de façon substantielle. La structure en fibre de carbone, sur laquelle le moteur était solidement boulonné, ne pesait que 102 kg et abritait une bâche à carburant Sekur de niveau aéronautique, alors que les amortisseurs Bilstein bénéficiaient d'un pilotage actif, pour améliorer les performances de la suspension type compétition à basculeurs. L'approche "sans compromis" s'étendait même aux bagues de suspension, toutes les pièces en caoutchouc étant considérées comme trop imprécises et laissant place à des éléments rigides. Alors que les premiers articles de presse s'interrogeaient sur les performances de la F50 par rapport à la F40, les chiffres répondaient de manière irréfutable : 513 ch et plus de 320 km/h dans une voiture pesant 1 230 kg, avec une résistance torsionnelle de l'ordre de 3 525 mkg par degré. Ainsi, la F50 était capable de signer un tour du circuit de Fiorano en 4 secondes de moins que la F40. La présente F50 est sortie d'usine en février 1996 et a été vendue le 16 mars de la même année par l'intermédiaire des établissements Charles Pozzi. Au cours de son existence en France, elle a été régulièrement entretenue par ce même concessionnaire et a pris part à divers évènements, comme les Ferrari Days à Spa-Francorchamps. En 2001, la voiture est revenue chez Charles Pozzi pour sa grande révision des 10 000 km, avant une autre grande révision réalisée en mai 2005 à 20 000 km chez le concessionnaire Aux Chateaux du Sud-Ouest. A partir de 2005, elle a été utilisée avec parcimonie et, en 2013, elle a été exportée au Royaume-Uni. Depuis lors, elle a bénéficié d'une révision en 2016, 2017 et 2018 par Greypaul Ferrari, de Nottingham, tout en passant entre les mains de trois autres propriétaires. Il est intéressant de préciser que cette voiture bénéficie d'un embrayage neuf, qui a été posé en 2015 par le spécialiste Bob Houghton en même temps qu'un jeu de pneus neufs. Avec une présentation impeccable dans sa teinte "Rosso Corsa" avec intérieur "Nero", elle est accompagnée de ses manuels, hard-top, soft-top, arceaux de sécurité, jeu de bagages spéciaux et malle de transport d'origine. Elle comporte aussi son classeur Ferrari Classiche, qui confirme qu'elle est encore équipée de ses principaux composants mécaniques d'origine, dont son moteur et sa boîte de vitesses. Que ce soit avant ou après la F50, très rares sont les automobiles qui offrent une combinaison aussi convaincante de performances de très haut niveau et de pedigree technique, sans parler de sa rareté ; de plus, il n'est pas fréquent qu'un exemplaire d'une telle qualité soit proposé à la vente.
CATALOGUE DESCRIPTION FROM RM SOTHEBY'S
The Classic Valuer has X of this car on the site...
The average price of this car is...
Check out the trend line on the graph above - the dotted grey one.
It'll show you the price trend previously and where it might be going.
Because, well, why not...?

Turkey vultures use defensive vomit to get rid of any disturbing animal. They can propel their vomit up to 10 feet.
A smorgasbord of other cars to do whatever you want to do with.