This page is normally for our premium subscribers only.
We've given you 1 free view of a price guide page.
Join our premium membership to view further price guide pages.
1973 Ferrari Dino 246 GTS
None of this model have sold at our auctions.
Check back soon to see if one has gone under the hammer.
The dotted grey line shows you this model (Ferrari - Dino's) trend over time. Each circle represents a sale.
The details of this Ferrari Dino
Exchange Rate Guidance: They're calculated based on exchange rates on the day of the auction. Converted from local currency to GBP, USD and EUR
AUCTION
AUCTION DATE
1973 Ferrari Dino 246 GTS
LOT DESCRIPTION
PRICE GBP
PRICE USD
CHASSIS NUMBER
PRICE EUR
ODOMETER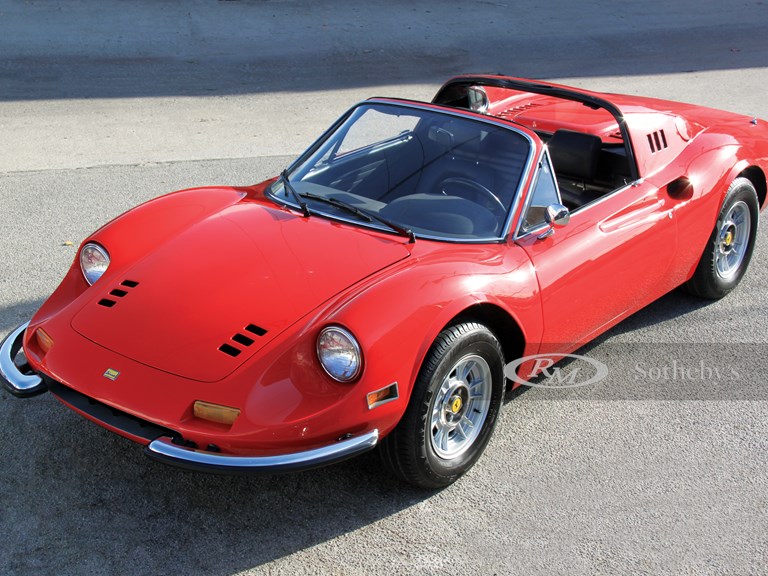 190 hp, 2,418 cc DOHC V-6 engine, five-speed manual transaxle (rear), unequal length A-arm front and rear suspension with coil springs and anti-roll bars, and front and rear disc brakes. Wheelbase: 92.1" • Single family ownership through 2011 • Only 56,000 original miles with complete engine rebuild at 54,700 miles • One of 1,200 targa-top 246 GTS produced • New tan leather interior No one quite realized it at the time, but the car on Pininfarina's stand at the 1965 Paris Auto Salon was the forecast of Ferraris to come. Called the "Dino 206 S Speciale," it was a sleek, competition-inspired coupe to be powered by the twin-cam, 65-degree, Ferrari-designed, mid-mounted V-6 engine. Dubbed a "research prototype" and built on a racing chassis, it was essentially a styling buck as it had no engine. Four prototypes were constructed. Less than one year later the real car appeared, this time at the 1966 Turin show as a running prototype called the Dino Berlinetta GT. It was a masterful blend of sensuous curves, outstanding surface development and stunning proportions. Like the original show car, it shared the mid-engine V-6, this time mounted transversely rather than longitudinally as in the show car. "The Dino recalled the Cisitalia with fenders that were higher than the bonnet," said Sergio Pininfarina. "The rear end's vertical window was done in such a way to make the front of the car man and bonnet, and the rear part of the car, the engine." Sports Car Graphic called it "an engineering masterpiece," recording a 0-60 mph time of 6.7 seconds and a top speed of 142 mph in Enzo's personal car. But, as Ferraris go, this was not quite enough, and within six months of introduction and production of just 100 cars, the 246 GT was introduced. It was Ferrari's attempt to satisfy the growing American market which demanded more power. The larger 2.4-liter engine, fed by three Weber carburetors and backed by the five-speed manual gearbox as used in the 206, offered 15 additional horsepower and greater flexibility throughout the rev range. The engine was constructed of cast iron instead of alloy for greater reliability, and the wheelbase extended 2.1 inches for a like gain in cockpit space. The 246 Dinos became the first Ferraris to receive pressed steel body panels that were pressed at the Pininfarina factory in Turin. The bodies were assembled at the Scaglietti works in Modena, before being transported to the Ferrari factory for mechanical assembly. The alloy rims were revised as well. Rather than the three-pointed central wing nut Cromodoras, 246 GTs featured Campagnolo rims with a circular hub on which the Dino logo was reproduced. Writer Mel Nichols noted in his test of the new 246 GT, "In all of motoring's history there have been few vehicles so balanced, integrated, and complete as this one." Capitalizing on the success and further adding appeal to the American market was the 246 GTS introduced in 1972. Featuring a removable targa roof and built exclusively for the U.S. market, Ferrari produced approximately 1,200 units of the new model for American consumers. Until more recently, this Dino 246 GTS remained in the ownership of Louis Jolton and his family of Bel Air, California (the owners of Luv 'N Stuf clothing), who purchased the car through Modern Classic Motors, the west coast importer. It comes complete with all its factory books in their original binder along with jack bag. Also included are extensive service records from the original purchase through the present time. This includes receipts for a complete engine rebuild by Hollywood Sports Cars at 54,709 miles. After Hollywood Sports Cars closed, maintenance was taken over by Modena Sports Cars and subsequently well-known Dino experts Blackhorse Motors. Re-sprayed in classic Ferrari Red, it has been fitted with a new tan leather interior with tan and black "Daytona" seats. With just 56,000 original miles, this Dino is well-documented and ready for use by its new owner.
CATALOGUE DESCRIPTION FROM RM SOTHEBY'S
The Classic Valuer has X of this car on the site...
The average price of this car is...
Check out the trend line on the graph above - the dotted grey one.
It'll show you the price trend previously and where it might be going.
Because, well, why not...?

The Hobbit has been published in two editions. In the first edition, Gollum willingly bet on his ring in the riddle game.
A smorgasbord of other cars to do whatever you want to do with.