This page is normally for our premium subscribers only.
We've given you 1 free view of a price guide page.
Join our premium membership to view further price guide pages.
1931 Duesenberg Model J Dual Windshield 'Barrelside' Phaeton by LeBaron
None of this model have sold at our auctions.
Check back soon to see if one has gone under the hammer.
The dotted grey line shows you this model (Duesenberg - Model J's) trend over time. Each circle represents a sale.
The details of this Duesenberg Model J
Exchange Rate Guidance: They're calculated based on exchange rates on the day of the auction. Converted from local currency to GBP, USD and EUR
AUCTION
AUCTION DATE
1931 Duesenberg Model J Dual Windshield 'Barrelside' Phaeton by LeBaron
LOT DESCRIPTION
PRICE GBP
PRICE USD
CHASSIS NUMBER
PRICE EUR
ODOMETER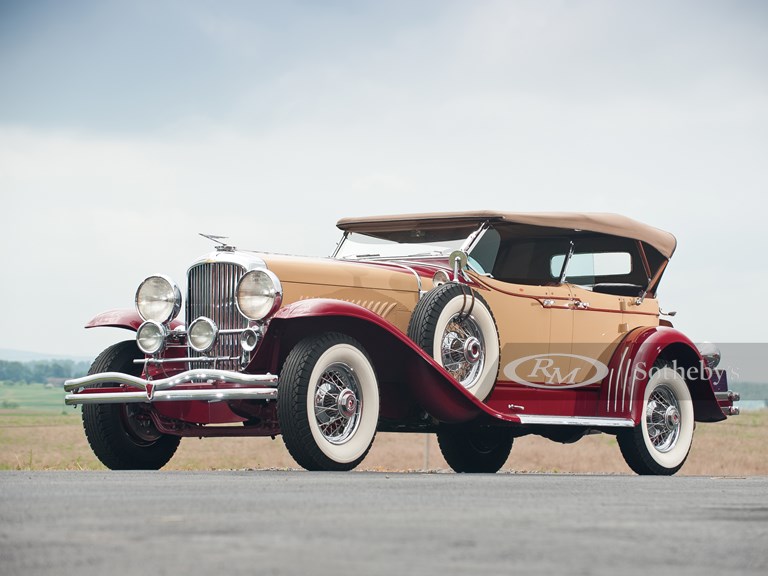 265 bhp, 420 cu. in. DOHC inline eight-cylinder engine with Stromberg downdraft carburetor, three-speed manual transmission, beam-type front and live rear axles with semi-elliptic leaf springs, and vacuum-assisted four-wheel hydraulic drum brakes. Wheelbase: 142.5 in. • From the collection of Ray Bowersox • Winner of the epic 1932 race at Lake Muroc • Single ownership since 1985 • One of only seven examples built According to Phil Berg, the original owner of the Duesenberg offered here and agent to numerous stars and producers of Hollywood, it all started like this, "Leila and I were at Al Jolson's home on Sunset Boulevard one evening, playing bridge with a number of friends. Zeppo and Chico Marx arrived in a sleek SSK (sic) Mercedes, which they had purchased jointly. My Duesenberg was parked in front and soon enough the conversation turned to these powerful looking machines and which of them was the faster." The story, which unfolded during interviews conducted by noted racing historian and author Griffith Borgeson with Berg and other witnesses, is the stuff of legend. The conversation recounted by Berg quickly developed from casual banter to a bet proposed by Chico Marx for "several thousand dollars." Leila Berg should arguably be credited for the events that unfolded, because that evening, she put a stop to the race that the gentlemen intended to happen then and there—from Jolson's home to the beach in Santa Monica. Due to Mrs. Berg's aversion to a race at midnight, the stakes were entrusted to a friend while the competitors organized a proper race, resulting in what Borgeson described as "sort of an automotive gunfight at the O.K. Corral, a showdown between two of the biggest, baddest glamour wagons of all time." Between that evening and the day of the race, the wager ballooned to 25,000 Depression-era dollars. It was the kind of money that the vast majority of Americans might only dream of amassing after a lifetime of work and which, at the time, was only possessed by those involved in the Hollywood film industry. To Berg, however, there was nothing wrong with a friendly wager and he didn't consider it to be gambling because he thought he could win. A phone call to the Indianapolis Speedway referred Berg to a man right in his own backyard: Eddie Miller. Miller began an association with the Duesenberg Automobile & Motors Company, Inc., back in 1915, when he was a team driver and brilliant mechanic for Fred Duesenberg through 1922. He later set up a repair shop in Hollywood and serviced automobiles for many entertainment personalities. His shop became a hangout for his racing buddies when they were in town, and he later came to the attention of E.L. Cord, who arranged to harness Miller's talents in the nascent field of engine tuning by creating a racing department in the renamed Duesenberg, Inc., and giving him a free hand to express his art and his genius. Miller accepted the offer and his subsequent association with Cord's empire would bring him into contact with the dry surface Lake Muroc and head-to-head with the supercharged Mercedes many times before the bet made by Marx and Berg. As it so happened, Cord was also Phil Berg's neighbor at the time and he gladly put him in touch with Miller, who agreed to participate in the race. A week before the race, a program of tuning and test driving was begun. The heavy LeBaron phaeton was stripped of any parts deemed unnecessary, including the fenders, bumpers, running boards, headlights, top, trunk, and windshield. Other preparations included last minute carburetor adjustments and staying up until 3 a.m. to whittle away the treads on a set of brand new tires to help improve gearing. What started out as a casual wager over a game of cards ended up surprisingly well organized, with a couple hundred invited guests bussed in and others who flew personal planes to the site. Among those in attendance were Clark Gable, Gary Cooper, Al Jolson, Carole Lombard, Mae West, and many others. Hollywood-based Mercedes specialist Joe Reindl was chosen to drive the Model S Mercedes. At 6:30 in the morning, the two cars lined up on a circular track at Muroc. The Mercedes took the shorter inside line and Miller gladly took the outside line, which he knew was firmer because it was raced on less. Rounding out the star-studded list of attendees was the official starter, legendary race car designer and builder Harry Miller. When the flag was dropped, the two cars took off. As Eddie Miller described, "We had the muffler off, of course, and you can believe that that thing roared. They must have heard it in Barstow." As expected, Reindle had faster acceleration and pulled into an early lead. By the time the cars reached the three mile point, the cars were side-by-side and Miller knew that he could easily take the Mercedes in top speed. Miller overtook Reindl after the first lap, "pouring on the coal pretty hard." He reported his speed to be 108 or 109 miles an hour, still holding some power in reserve in case the Mercedes caught up. "As I came by the pole, where the people were waving and cheering, I looked back but could see no sign of my competition, swallowed up somewhere in my dust cloud." A number of photos documenting the race show the two incredible stripped-down brutes poised and ready to prove their mettle in the crucible of motorsport. Subsequent to Phil Berg's ownership, the phaeton traveled through a succession of owners from California until passing to Herman Zalud, of North Platte, Nebraska. Later, it was with early collector and pioneer Tiny Gould, of Pennsylvania. An article published in Sports Illustrated on May 10, 1971 documents Gould's rejection of an offer that would have shattered the previous $45,000 world record for an antique car, which was held by a T-head Mercer. So important was the car, and Gould's faith in it, that he held on until finding the right home. J-299 was eventually acquired by The Craven Foundation in Canada before coming into the ownership of Mr. Bowersox in November 1985, where it was thoroughly restored. The restoration included a full engine and mechanical rebuild, which has been meticulously maintained since. It has been driven and enjoyed regularly for the last quarter century, aided by the high-speed rear end, and has participated in many tours and ACD meets. Finished in an attractive combination of sand beige with red fenders and accents, it is further amplified by a tan cloth top and side curtains by Al Prueit, and a sumptuous brown leather interior, which appears comfortable and worn in, like a favorite armchair. The interior is complemented by brown carpeting and accented by a Duesenberg eagle molded into the leather-upholstered panel behind the driver's seat. Also highly attractive is the contrasting hood sweep, which starts at the peak of the radiator shell and spreads outward toward the cowl to the beginning of the complex belt molding; it then comes down the sides of the cowl and splits in front of the front door handle, continuing down the body until it joins back together behind the rear door handle and wraps around the rear of the body. Other features include the interesting windshield, which cants forward and then rakes back at 45 degrees, Pilot-Ray driving lights, wind wings, chrome wire wheels, dual side-mounts with pedestal mirrors, a brown leather trunk with Duesenberg script, and a rear folding windshield with wings. The folding windshield is a period accessory and it is notable because J-299 was the only one of the seven LeBaron 'barrelsides' built without a rear cowl. It is further equipped with dual rear taillights and modern driving lights and seat belts for safe touring. With the fading of memory and the passing of the legendary personalities that created the rolling sculptures so enthusiastically cherished today, so too have passed many great tales of automotive daring and folly. Collectors, historians, and enthusiasts are forever indebted to Borgeson for the many works he published documenting the early history of many automotive firms and pioneers. J-299 lives on as well, existing as a not-so-silent reminder of glory days passed. The car and the mythical race are superlatives in automotive lore and the well-crafted recounting is so aptly named: Madness at Muroc.
CATALOGUE DESCRIPTION FROM RM SOTHEBY'S
The Classic Valuer has X of this car on the site...
The average price of this car is...
Check out the trend line on the graph above - the dotted grey one.
It'll show you the price trend previously and where it might be going.