This page is normally for our premium subscribers only.
We've given you 1 free view of a price guide page.
Join our premium membership to view further price guide pages.
1957 Dual-Ghia Convertible by Carrozzeria Ghia
None of this model have sold at our auctions.
Check back soon to see if one has gone under the hammer.
The dotted grey line shows you this model (Dual-Ghia - Convertible's) trend over time. Each circle represents a sale.
The details of this Dual-Ghia Convertible
Exchange Rate Guidance: They're calculated based on exchange rates on the day of the auction. Converted from local currency to GBP, USD and EUR
RM Sotheby's - New York - Art of the Automobile
AUCTION
AUCTION DATE
1957 Dual-Ghia Convertible by Carrozzeria Ghia
LOT DESCRIPTION
PRICE GBP
PRICE USD
CHASSIS NUMBER
PRICE EUR
ODOMETER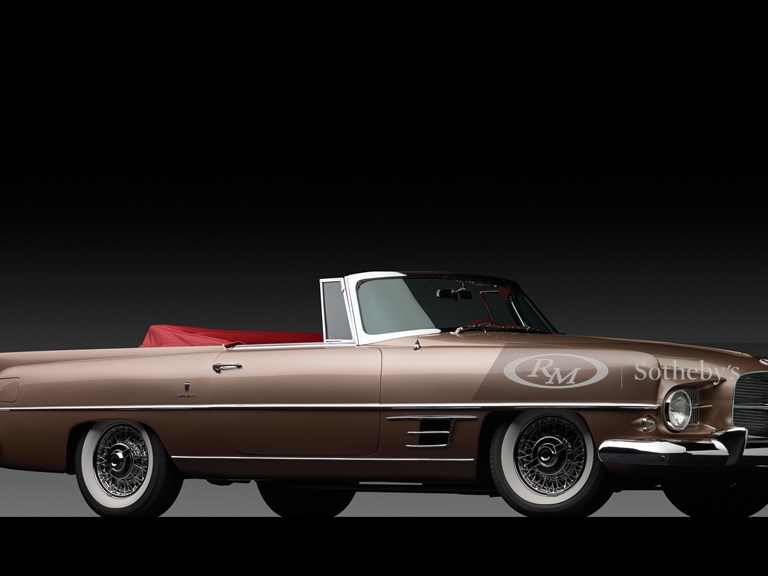 It was a time of neon, chrome, and bubbling optimism, and those who rode the 1950s' wave of success found themselves behind the wheel of a Dual-Ghia, Eugene Casaroll's tribute to wealth and power. Casaroll had made a fortune as a Detroit trucking magnate, enjoying particular success with twin-engined trucks built by his Dual Motors. Like many Detroiters, he was a passionate motorist and took notice of the fascinating creations literally being built in his own backyard. Among them was a Dodge show car called the Firebomb, which was a more evolved version of the famous Ghia-built Firearrows of the early 1950s. Chrysler opted not to put the Firebomb into production, but Casaroll did, and he purchased both the car and the rights to its design. Soon the Firebomb had evolved into what was known as the Dual-Ghia, a hand-built combination of reliable Motor City-built Dodge "Red Ram" V-8 power and gorgeous four-passenger convertible bodywork hand-built by Ghia in Turin. It was quite literally a "dream car" for the road, as it was exceptionally expensive and tremendously rare. The average American motorist likely never even saw one on the road in person. The design featured headlights recessed into an oval nose, which faded away into slab sides and ended in knife-edged tailfins. In an era of excess, both in art and in automobiles, the Dual-Ghia was amazingly clean and elegant. Devoid of unnecessary trim, it had a style about it that could only have come from Italy. Casaroll's ideal buyers were the very cream of society: people who could afford to display simple yet very good taste. In just a few pretty words, this car could speak everything about its owner. Exhaustive attention to detail and beautiful craftsmanship became the Dual-Ghia's signatures. The leather interior was finely crafted, using English hides over coil springs and foam rubber, which was the same method of construction used for furniture, and it faced a bank of instruments that were fit into an engine-turned aluminum dash. Writing in Volume 35, Number 3 of Automobile Quarterly, Dr. Paul Sable and John Matras recalled, "Rather than big presses and dies stamping out large body panels, small sections of steel were hand-hammered to shape and then matched to a buck for fit. The sections were then welded together and ground smooth, [with] the patchwork result resembling an ear of corn. This was sprayed with a heavy primer, sanded, and painted." Casaroll was not a veteran automaker, but he was a veteran salesman. Long before Ferrari's practice of building one fewer of a car than they knew they could sell, the Dual-Ghia's proud father literally hand-chose customers from a list of first-class applicants. Frank Sinatra, the brightest of stars in the late 1950s, had one, of course. Dean Martin was awarded one, as was Lucille Ball, who became a great fan and a return customer. "A Rolls-Royce," commented Hollywood columnist Dorothy Kilgallen, "is the Hollywood status symbol for those who can't get a Ghia." In fact, only about 100 Dual-Ghias were made in three years of production. A successor hardtop coupe was proposed, but a combination of lagging business for Casaroll's main trucking concern, slow sales at Chrysler, and the great man's own poor health led to its production being purely by Ghia, as the L6.4. Only a token few were made, and the Dual-Ghia by any name then passed into history. It was for the better. Celebrities and Italian flair had made Eugene Casaroll's car famous. Passing time would make it immortal. The car offered here, chassis number 145, is believed to have been delivered new in California. Its history has been traced back to the 1970s, when it was owned by Graham Enterprises, of Los Angeles, and it is believed to have been involved in the recording industry. It then passed to Robert Irving Moe, in whose ownership it was known to Dual-Ghia historians. After remaining with Mr. Moe for some time, the Dual-Ghia was sold to its present owner, a well-known collector in the American Southwest who is known for the high quality of his restorations. The restoration given to this Dual-Ghia has been performed to an utterly outstanding concours standard. An original letter from Dual Motors to a customer, found in the National Automotive History Collection of the Detroit Public Library, was sourced, noting that custom colors were available. As a result, the period-correct shade of bronze was chosen, and it is absolutely stunning, particularly against the crisp bright red leather interior, which was installed in the correct pattern. Dr. Paul Sable, author of the Automobile Quarterly Dual-Ghia history, was consulted to source correct and accurate parts. The end result is an absolutely breathtaking presentation of a vehicle that was not only freshly restored, but one that was also done to incredible standards of authenticity. Accompanying this car are the pages of an original Dual-Ghia brochure, as well as their original mailing envelope and a priceless "Prices and Equipment" card, which served as the Dual-Ghia's "window sticker" when new and is in mint condition today. In the 1950s, this was America's most prestigious automobile. One could argue that, over half a century later, the Dual-Ghia still proudly holds that position.
CATALOGUE DESCRIPTION FROM RM SOTHEBY'S
The Classic Valuer has X of this car on the site...
The average price of this car is...
Check out the trend line on the graph above - the dotted grey one.
It'll show you the price trend previously and where it might be going.
Because, well, why not...?

The last letter added to the English alphabet wasn't Z — it was the letter J.