This page is normally for our premium subscribers only.
We've given you 1 free view of a price guide page.
Join our premium membership to view further price guide pages.
1947 Diamond T Model 201 Pickup Truck
None of this model have sold at our auctions.
Check back soon to see if one has gone under the hammer.
Providing you reliable and trustworthy info is priority #1. We couldn't match this car against our list of models so we've hidden some elements on the page. We're continually updating the site, it'll be sorted in a jiffy.
Exchange Rate Guidance: They're calculated based on exchange rates on the day of the auction. Converted from local currency to GBP, USD and EUR
AUCTION
AUCTION DATE
1947 Diamond T Model 201 Pickup Truck
LOT DESCRIPTION
PRICE GBP
PRICE USD
CHASSIS NUMBER
PRICE EUR
ODOMETER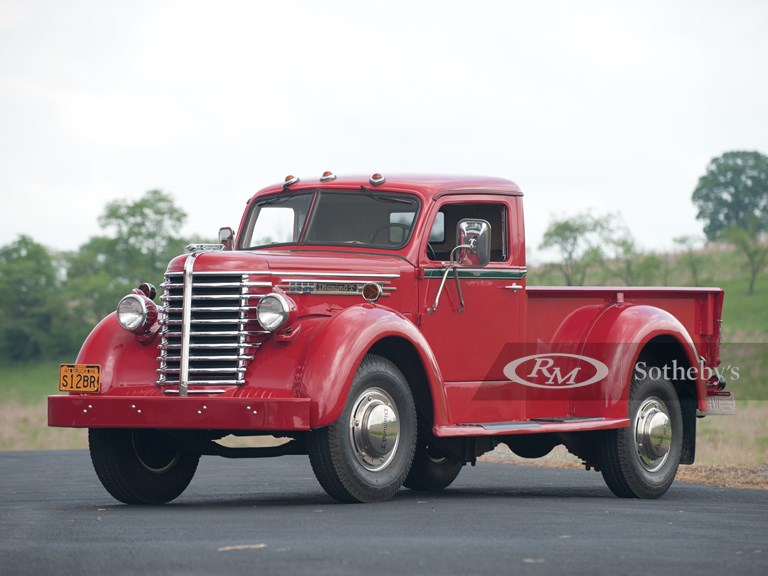 91 bhp, 236 cu. in. L-head inline six-cylinder engine, four-speed manual transmission, solid front axle and live rear axle with semi-elliptic leaf springs, and four-wheel hydraulic drum brakes. Wheelbase: 119? • Fully restored • Practical, heavy-duty, postwar design • From the collection of Ray Bowersox The "T" in Diamond T was Chicago's Charles A. Tilt, and the marque's distinctive logo came from his father's shoe company, where the diamond signified quality and the "T" stood for the family name. Tilt manufactured a few custom-built passenger cars, starting in 1905, but only entered truck manufacturing in 1911, at a customer's request. Diamond T trucks quickly gained renown for their high-quality components and assembly, and the company's growth dictated larger facilities by 1916. During World War I, the company built some 1,500 Liberty trucks for the war effort and another 2,000 following the end of hostilities. By 1926, Diamond T was building trucks as large as 12 tons, including a six-wheel model, and by 1933, modern features, including V-windshields and steel-roofed cabs, appeared. Diesel engines were available by 1936, when the Diamond T lineup was restyled with a streamlined theme. The Model 201, a one-ton pickup, was introduced in 1938 and used a Hercules engine and Warner Gear transmission. Highly regarded for its rugged and sturdy character, the 201 was frequently converted for such difficult tasks as towing. Following World War II, competition with Ford and Chevrolet for the rural pickup truck market proved very difficult. Beginning in 1951, Diamond T limited production to heavy-duty commercial vehicles, and in 1958, the company sold out to White Motor Co. Resplendent in its red livery, this rare 1947 Diamond T Pickup Truck continues to benefit from a complete restoration and the proper care of the Ray Bowersox Collection. The engine was rebuilt in 1996 and other mechanical work included the rebuilding of the front suspension, transmission and rear-end, the installation of a new carburetor and new engine mounts, plus a rebuilding of the gauges. This Diamond T pickup will provide the new owner with a wonderful alternative to the far more common Chevrolet and Ford trucks of the era.
CATALOGUE DESCRIPTION FROM RM SOTHEBY'S
The Classic Valuer has X of this car on the site...
The average price of this car is...
Check out the trend line on the graph above - the dotted grey one.
It'll show you the price trend previously and where it might be going.
Because, well, why not...?

When tea started being sold in bags, originally it was intended to be removed from the bags by customers, but they found it easier to brew the tea still in the bag.