This page is normally for our premium subscribers only.
We've given you 1 free view of a price guide page.
Join our premium membership to view further price guide pages.
1903 Columbus Electric Folding-Top Runabout
None of this model have sold at our auctions.
Check back soon to see if one has gone under the hammer.
Providing you reliable and trustworthy info is priority #1. We couldn't match this car against our list of models so we've hidden some elements on the page. We're continually updating the site, it'll be sorted in a jiffy.
Exchange Rate Guidance: They're calculated based on exchange rates on the day of the auction. Converted from local currency to GBP, USD and EUR
AUCTION
AUCTION DATE
1903 Columbus Electric Folding-Top Runabout
LOT DESCRIPTION
PRICE GBP
PRICE USD
CHASSIS NUMBER
PRICE EUR
ODOMETER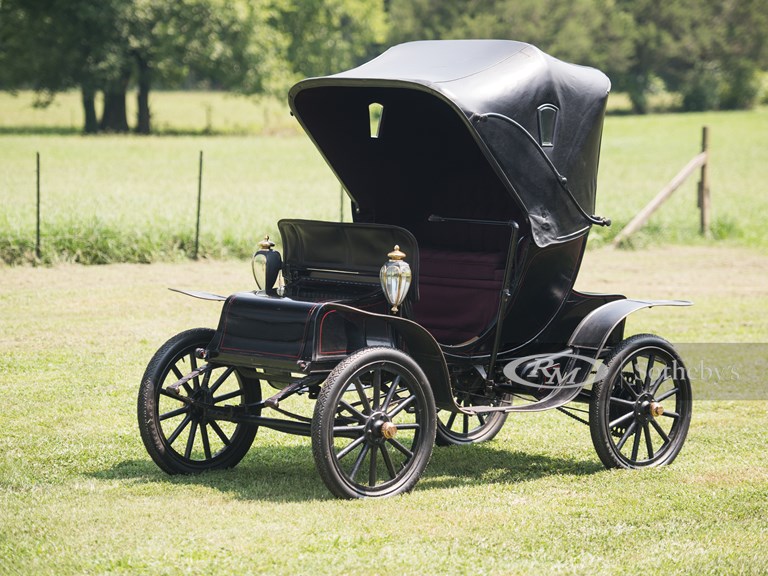 24/48-volt DC motor, three-speed controller with reverse, double chain drive, Platform front suspension with tubular axle and semi-elliptical leaf springs, tubular rear axle with full-elliptical leaf springs, and two-wheel mechanical brakes. Wheelbase: 73 in. The names "Columbia," "Columbian," and "Columbus" have been used so often on automobiles that the cars are frequently confused with one another. That's true even in the subspecies of electrics, where we find all three variants. Most familiar is Colonel Albert Pope's Columbia Electric, whose parent company served as the weapon for enforcing Selden Patents. The Columbian Electric was built in Detroit from 1914 to 1917 and passed from view almost unnoticed. This car, however, has a longer and more illustrious pedigree, arising from the Columbus Buggy Company in that Ohio city. As the name implies, the company began with horse-drawn transport, switching to automobiles in 1903. It managed to survive the slump in electric car sales that occurred around 1906 and prevailed until the second waning after 1915. Gasoline-powered cars were also built from 1907, high-wheelers at first, but later as the conventional Firestone-Columbus. The Folding Top Runabout was Columbus's mainstay from 1903 to 1905, after which the company introduced coupe, runabout, victoria, stanhope, surrey, and even station wagon models. This Columbus Electric has been known as the "ZaSu Pitts car," although its provenance is not documented. Harold Coker purchased it in 2009 as a Christmas gift for his wife Lillian. He acquired it from Wayne McKinley, a Chevrolet dealer in O'Fallon, Illinois, who had owned it since the early 1960s. According to the McKinley family, it was always known as the ZaSu Pitts car, for the renowned silent film actress, and was exhibited as such at the Illinois State Fair for many years. Indeed, the Chicago Tribune for August 11, 1967, mentions it as "one of 15 special autos on display on the Avenue of Flags" at that year's Fair. It is a very complete car in original condition, except for the upholstery and new batteries. The McKinleys installed a new interior, but the patent leather fenders are original and show age but no serious cracks. The lined top is a Naugahyde replacement for the original leather, and the landau irons give it a graceful air. The wood body and paint are both very good. The interior is done in maroon buttoned velour and is in very good condition. The floor is carpeted in matching color. The steering tiller is at the left side, and the only instrumentation is a volt-ammeter bearing the name Columbus Buggy Company. Electric cars were on the forefront of electric auto lighting, and this car is no exception. It has electric coach lamps and taillight but no headlights, per se. The tires are 30x3 Firestone Non-Skid blackwalls. Power for lighting and propulsion comes from four 12-volt lead-acid batteries, two front and two aft. It drives very well, as do most vintage electric cars since there are few moving parts to fail. As a 1903 car, it is eligible for the prestigious London-to-Brighton Run in Britain. Included in the sale is a framed photograph of ZaSu Pitts in a Columbus Electric, chauffeuring Flight Officer Ted Peiken of the British Air Force around New York's Central Park in 1944. This widely published wartime photo was very likely a publicity effort to encourage gasoline conservation. Any Columbus Electric is rare. This one, in near original and very good condition, is a remarkable find. Its Brighton Run eligibility is icing on the cake.
CATALOGUE DESCRIPTION FROM RM SOTHEBY'S
The Classic Valuer has X of this car on the site...
The average price of this car is...
Check out the trend line on the graph above - the dotted grey one.
It'll show you the price trend previously and where it might be going.
Because, well, why not...?

Turkey vultures use defensive vomit to get rid of any disturbing animal. They can propel their vomit up to 10 feet.