This page is normally for our premium subscribers only.
We've given you 1 free view of a price guide page.
Join our premium membership to view further price guide pages.
1943 Chevrolet C60L CMP 4x4
None of this model have sold at our auctions.
Check back soon to see if one has gone under the hammer.
Providing you reliable and trustworthy info is priority #1. We couldn't match this car against our list of models so we've hidden some elements on the page. We're continually updating the site, it'll be sorted in a jiffy.
Exchange Rate Guidance: They're calculated based on exchange rates on the day of the auction. Converted from local currency to GBP, USD and EUR
RM Sotheby's - The National Military History Center
AUCTION
AUCTION DATE
1943 Chevrolet C60L CMP 4x4
LOT DESCRIPTION
PRICE GBP
PRICE USD
CHASSIS NUMBER
PRICE EUR
ODOMETER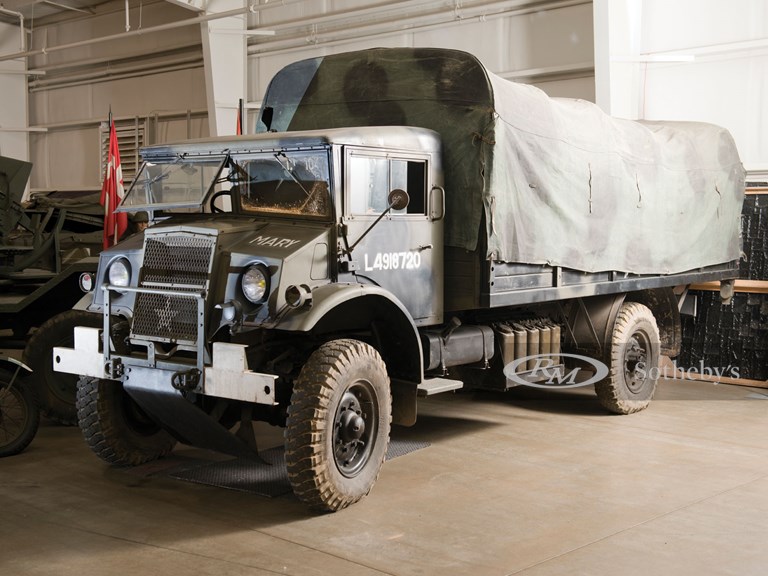 All military vehicles and artifacts offered in this sale are sold "As Is" and "For collector purposes only". These military vehicles and artifacts should never be loaded and/or fired with any ammunition. We make no warranty and/or representations as to the suitability or fitness of these items for use. By purchasing military vehicles and artifacts you hereby and irrevocably waive any and all claims against Auctions America by RM, Inc. and agree to indemnify and hold harmless Auctions America by RM, Inc. from any injuries or death associated with these military vehicles and artifacts. Please note, there may be an associated licensing fee based on the location of licensing, and bidder must satisfy himself as to all licensing and import requirements in his home state or country. Please Note: Information regarding these museum display vehicles was provided by the National Military History Center and has not been independently verified by Auctions America by RM ("AA"). As such, AA does not verify, warrant or guarantee any of this information. Prior inspection and research by the buyer is highly encouraged and recommended. ATTENTION: Buyers are responsible for securing transportation and moving/loading of lots. Lot may be left on display indefinitely in the museum free of charge with a signed loan agreement form. Lots are sold as is, where is. Please note this is being sold on "Bill of Sale" only. Manufacturer: General Motors of Canada Ltd. - Oshawa, Ontario Production Year: 1943 Engine: Chevrolet 216-cid ohv, in-line, liquid-cooled, 85-hp, six-cylinder, gasoline Transmission: Four-speed: four forward, one reverse Length: 20-feet, 4-inches Width: 7-feet, 6-inches Height: 9-feet, 9-inches (to top of cargo area bonnet) Weight: Approximately 4-3/4-tons Armor: None Armament: None Maximum Road Speed: 50-mph Maximum Load Capacity: 3-tons Wheelbase: 158-inches Markings: British Army green, General Service Unit The Chevrolet C60L 3-ton 4x4, along with the nearly identical models built by Ford, accounted for more than 209,000 of the over 850,000 trucks built in Canada during World War II. In fact, Canada provided the majority of the motorized transport for the British Empire during the war. The Canadian government specified that all Canadian military vehicles be built to British designs and specifications. Ford and Chevrolet combined efforts to develop the CMP (Canadian Military Pattern) series of trucks. This cooperation between the two auto giants resulted in vehicles with an exceptionally high amount of interchangeability. Chevy built CMP 3-tons (initially classified as 60-cwt- 60 hundred weight) entered wide scale production in 1940. The displayed 3-ton CMP is a 1942 pattern model that features a cab with a reverse slope windshield and embedded headlights. The C60 series 4x4s were the most versatile of all the CMP trucks. Many body types were produced including ambulance, gas and water tanker, cipher office (for coding and decoding messages), senior officer box-van, dental clinic, wrecker, kitchen and general cargo - as displayed. Many C60 4x4s with modifications for Arctic use were produced and shipped to Russia in 1943-44.
CATALOGUE DESCRIPTION FROM RM SOTHEBY'S
The Classic Valuer has X of this car on the site...
The average price of this car is...
Check out the trend line on the graph above - the dotted grey one.
It'll show you the price trend previously and where it might be going.
Because, well, why not...?

The group of spikes at the end of stegosaurid tails are called the "thagomizer." They had no distinct name until the term was coined in 1982 by a cartoonist.