This page is normally for our premium subscribers only.
We've given you 1 free view of a price guide page.
Join our premium membership to view further price guide pages.
1933 Cadillac V-12 Five-Passenger Town Sedan by Fisher
None of this model have sold at our auctions.
Check back soon to see if one has gone under the hammer.
The dotted grey line shows you this model (Cadillac - V-12's) trend over time. Each circle represents a sale.
The details of this Cadillac V-12
Exchange Rate Guidance: They're calculated based on exchange rates on the day of the auction. Converted from local currency to GBP, USD and EUR
AUCTION
AUCTION DATE
1933 Cadillac V-12 Five-Passenger Town Sedan by Fisher
LOT DESCRIPTION
PRICE GBP
PRICE USD
CHASSIS NUMBER
PRICE EUR
ODOMETER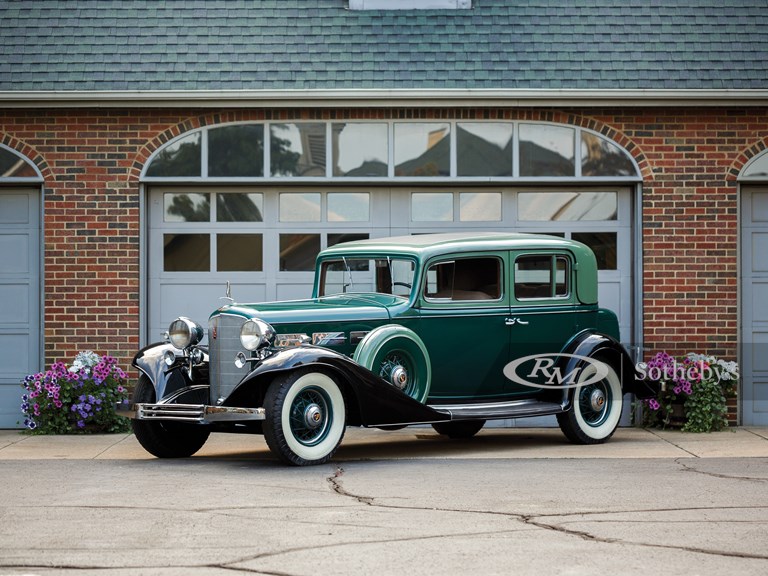 The Cadillac V-12 was first introduced in 1931 and shared parts as well as dimensions and angles with its big brother, so production did not have to proceed from scratch. The Twelve was nearly the performance equal of the big Sixteen, with strong torque and similar top speed; from its 368-cu. in. engine, it produced 135 hp, 285 foot-pounds of torque, and a top speed of over 80 mph. A facelift, simple in execution but startling in effect by GM's head of design Harley Earl, transformed the 1933 Cadillac into a more modern-looking car. Telltale touches of Art Moderne, Art Deco, and industrial design began to creep into automotive styling with stunning results. Both Cadillacs and companion LaSalles received modern skirted fenders, vee'd radiators, and more swept-back windshields. Cadillac sold only 6,655 models among all four models for 1933, including 953 V-12s and 126 V-16s, its lowest output of the decade. The town sedan offered here was sold new by Greenlease-Moore, Inc., of Oklahoma City, and is still equipped with its original factory options of dual side-mounted spares, painted metal tire covers, and wire wheels. It is a very solid automobile that is largely original, aside from an older repaint and more recent replacement of the front seat upholstery. Its owner notes that the body and fenders are very solid throughout, with no wood rot; that the instrumentation functions properly; and that the car runs and drives very well after examination and servicing of its drivetrain. Being recognized as a Full Classic by the CCCA, this would make an excellent car for tour or show.
CATALOGUE DESCRIPTION FROM RM SOTHEBY'S
The Classic Valuer has X of this car on the site...
The average price of this car is...
Check out the trend line on the graph above - the dotted grey one.
It'll show you the price trend previously and where it might be going.