This page is normally for our premium subscribers only.
We've given you 1 free view of a price guide page.
Join our premium membership to view further price guide pages.
2014 Bugatti Veyron 16.4 Grand Sport Vitesse
None of this model have sold at our auctions.
Check back soon to see if one has gone under the hammer.
The dotted grey line shows you this model (Bugatti - Veyron Grand Sport's) trend over time. Each circle represents a sale.
The details of this Bugatti Veyron Grand Sport
Exchange Rate Guidance: They're calculated based on exchange rates on the day of the auction. Converted from local currency to GBP, USD and EUR
AUCTION
AUCTION DATE
2014 Bugatti Veyron 16.4 Grand Sport Vitesse
LOT DESCRIPTION
PRICE GBP
PRICE USD
CHASSIS NUMBER
PRICE EUR
ODOMETER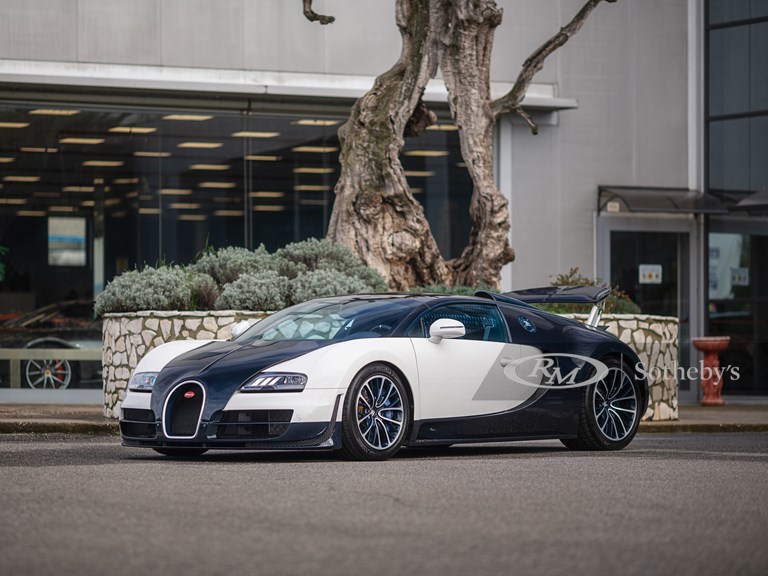 Please note that this lot is subject to VAT on the full purchase price (both on the hammer price and commission) By 2012, the Bugatti Veyron had solidified its status as the industry's gold standard for hypercars. To many, it came as no surprise that Bugatti would give the 1,200-bhp Super Sport treatment to the open-top Vitesse. In doing so, the company created the world's fastest production roadster, clocking a top speed of 408.84 km/h. Instead of being allocated for a specific customer order, this particular Grand Sport Vitesse, the 73rd of 92 examples produced, was built for Bugatti themselves to be used as a display car at corporate and promotional events. Built to EU specifications, it boasts a unique configuration within Veyron production and is finished in two-tone Porsche Carrera White and Blue. Exterior options include painted air intakes and two-tone Super Sport wheels. Inside, the interior is trimmed in Lake Blue leather with white stitching and is fitted with sport comfort-style seats as well as a carbon fibre centre console and door inserts. Produced in early 2014, this Grand Sport Vitesse appeared at a Bugatti event at Bassano del Grappa in Italy in July of that year, and at an event in Porto Cervo later that month. It left Bugatti's ownership in August of 2014 when it was delivered to its first private owner via Bugatti Cannes. It was first registered in Lithuania prior to being reregistered in Monaco. The accompanying service book shows regular services by Bugatti Cannes at 991 km in October of 2015, 1,197 km in November of 2016 and 1,498 km in December of 2017. Currently, the car shows just under 2,750 km from new and presents wonderfully throughout. It is important to note that the car has recently been fitted with a new set of correct Michelin tires and is accompanied by a car cover, owner's manuals, battery tender, HP iPaq for servicing, display box with speed key, as well as its soft and hard tops. Nearly seven years after its initial introduction to the public at the 2012 Geneva Motor Show, the Grand Sport Vitesse can still handily outrun and outperform many of the contemporary crop of hypercars being produced today. Offered in tasteful and unique colours with only 2750 km from new, this Veyron begs to be driven and enjoyed and would certainly relish in the opportunity to explore its upper limits of performance. • Utilisée initialement par le constructeur comme voiture d'exposition • Spécification unique, teinte deux tons "Porsche Carrera White" et "Blue" • Une des 92 Grand Sport Vitesse construites • Seulement deux propriétaires et 2 750 km depuis l'origine En 2012, la Bugatti Veyron a réussi à s'imposer comme référence absolue en matière d'hypercars. Pour beaucoup, il n'est pas surprenant que Bugatti applique à la Vitesse, avec sa carrosserie ouverte, le traitement Super Sport et sa puissance de 1 200 ch. Ce faisant, la marque donne naissance au roadster de série le plus rapide du monde, avec une vitesse de pointe de 408,84 km/h. Au lieu d'être affectée à la commande précise d'un acheteur, la Grand Sport Vitesse présentée ici, la 73e des 92 produites, est sortie d'usine pour le compte du constructeur Bugatti lui-même, dans le but de servir de voiture d'exposition lors des évènements d'entreprise et des opérations de promotion. Produite aux spécifications européennes, elle présente une configuration unique au sein de la production Veyron, avec une livrée deux tons "Porsche Carrera White" et "Blue". Les options extérieures incluent des prises d'air peintes et des jantes Super Sport deux tons. L'habitacle comporte une sellerie en cuir "Lake Blue" avec surpiqûres blanches, des sièges sport style confort ainsi qu'une console centrale et des garnitures de portes en fibre de carbone. Sortie d'usine au début de l'année 2014, cette Grand Sport Vitesse est apparue au mois de juillet de cette même année lors d'un évènement Bugatti organisé à Bassano del Grappa, en Italie, puis lors d'un autre évènement à Porto Cervo plus tard au cours du même mois. Elle a quitté le giron de Bugatti en août 2014 et a été livrée à son premier propriétaire privé par l'intermédiaire de Bugatti Cannes. Elle a été immatriculée d'abord en Lituanie, puis à Monaco. Le carnet d'entretien qui l'accompagne montre des révision régulières effectuées par Bugatti Cannes, en octobre 2015 à 991 km, en novembre 2016 à 1 197 km et en décembre 2017 à 1 498 km. Aujourd'hui, cette voiture affiche un peu moins de 2 750 km d'origine et se présente magnifiquement à tous points de vue. Il est important de noter qu'elle a été récemment équipée d'un jeu de pneus Michelin neufs corrects et qu'elle est vendue avec une housse, les manuels d'utilisation, un chargeur de batterie, un "HP iPaq" pour l'entretien, le réceptacle avec "speed key", ainsi que sa capote et son hard-top. Presque sept ans après sa première présentation au public, au Salon de Genève 2012, la Grand Sport Vitesse peut encore aujourd'hui facilement surpasser un grand nombre d'hypercars actuelles. Avec sa livrée exclusive et élégante, et son kilométrage de 2 750 km seulement, cette Veyron ne demande qu'à être utilisée pour le plaisir de son propriétaire, à qui elle permettra d'explorer les limites les plus élevées de ses performances hors du commun.
CATALOGUE DESCRIPTION FROM RM SOTHEBY'S
The Classic Valuer has X of this car on the site...
The average price of this car is...
Check out the trend line on the graph above - the dotted grey one.
It'll show you the price trend previously and where it might be going.
Because, well, why not...?

Turkey vultures use defensive vomit to get rid of any disturbing animal. They can propel their vomit up to 10 feet.