This page is normally for our premium subscribers only.
We've given you 1 free view of a price guide page.
Join our premium membership to view further price guide pages.
None of this model have sold at our auctions.
Check back soon to see if one has gone under the hammer.
Providing you reliable and trustworthy info is priority #1. We couldn't match this car against our list of models so we've hidden some elements on the page. We're continually updating the site, it'll be sorted in a jiffy.
Exchange Rate Guidance: They're calculated based on exchange rates on the day of the auction. Converted from local currency to GBP, USD and EUR
RM Sotheby's - New York - Art of the Automobile
AUCTION
AUCTION DATE
LOT DESCRIPTION
PRICE GBP
PRICE USD
CHASSIS NUMBER
PRICE EUR
ODOMETER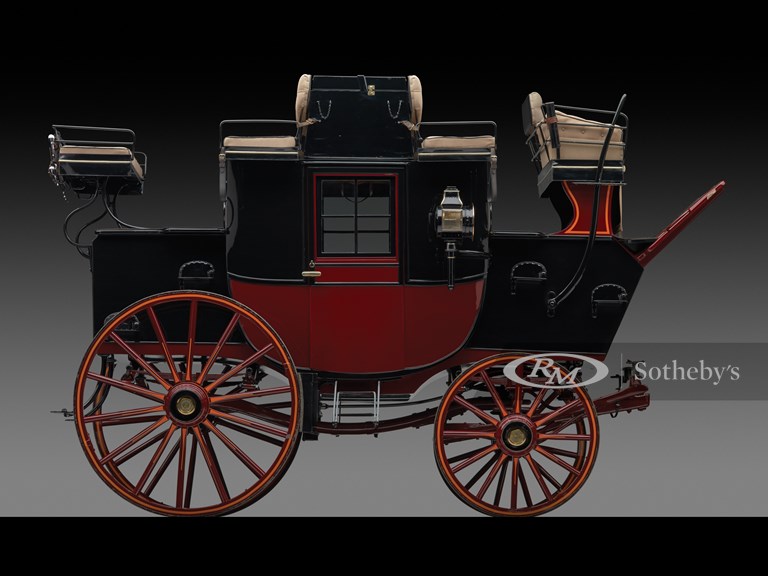 Please note that this lot is subject to 15% buyer's premium. "You're the top; you're a Brewster body." When Cole Porter wrote those lyrics in 1934, Brewster & Company was almost more than a century old. Having been established in New Haven, Connecticut, in 1810, it predated the automobile by a full eight decades, and it was known as America's leading coachbuilder to America's finest families. In those days, of course, people of means traveled between and within cities in bespoke coaches and carriages that were built to their demanding specifications and tastes. It was those same early coachbuilders, both in the United States and overseas, that frequently made the successful transition from traditional "coachbuilding" to motor cars. As a result, names like Vanden Plas, Mulliner, Park Ward, and Brewster have adorned automobiles for many years. The Park Drag presented here was precisely the sort of carriage favored by those families for formal occasions, be it a night at the theater, a wedding, or another such celebratory event where the arrival of an elegant carriage would certainly have made a statement. The Park Drag, which was a lighter and more elegant version of Brewster's Road Coach, was the 19th century equivalent to a stretch limousine; it had four well-matched carriage horses, which were driven from a rooftop seat by the liveried chauffeur, and the passengers rode snugly within the enclosed carriage in enclosed comfort. This was the vehicle in which wealthy men and women arrived at Delmonico's and the original Madison Square Garden during the Gilded Age. This particular carriage was ordered from Brewster in February 1892 by wealthy New York business executive Hamilton McKown Twombly. Born to a shipping merchant, raised in Boston, and a graduate from Harvard, Twombly joined one fortune after another when, in 1877, he married railroad heiress Florence Adele Vanderbilt. Together, in the spirit of the times, they maintained a residence in New York, on Fifth Avenue of course, as well as "cottages" in the country, which included Vinland at Newport and Florham in Morristown, New Jersey. Florham was but a short trip on the "Millionaires Express" from New York City, and it is unlikely that Twombly ever needed to buy a ticket, as his in-laws owned the Delaware, Lackawanna, and Western Railroad. It was at Florham that this Park Drag was put into use, after its delivery on June 10, 1892. Florham was nothing short of spectacular, as it was built in the finest styles of the Gilded Age, by one of America's preeminent architectural firms, McKim, Mead, and White, with the creative input of the landscape designer Olmsted Associates. Of the 1,200 acres the estate encompassed, an extraordinary 150 acres were transformed by Frederick Law Olmsted into a sprawling park of lawn, terraces, and formal gardens. The 100-room mansion, itself Georgian Revival by design, overlooked the gardens. An orangery, 10 greenhouses, a gate lodge, and a carriage house completed the design. The carriage house, in fact, contained 40 horses and several carriages, including this one. The carriage would greet its master at the train station with his daughter Ruth, who was an expert horsewoman, capable of driving four-in-hand; she would be accompanied by two uniformed footmen and a postillion, the latter the left-hand horse of the leading team. No doubt it glistened then, as it does today, in its color of the House of Vanderbilt, which Mrs. Twombly described as "a dash of burgundy mixed with plum," with pinstriping in vermillion. The coach's fabrics were chosen especially for the purpose, and the woodwork was specified as "heavier than usual." A "boot" compartment at the rear opened from the top, forming a picnic table for house parties and social and sporting events that the active Twomblys favored. Two tin-lined solid cherry boxes held wine bottles and glasses, while a wicker basket carried canes and umbrellas. For 18 years, the Park Drag remained in faithful service to the Twombly and Vanderbilt families at Florham. With the advent of the motor car, it was replaced in the carriage house by a fleet of no less than six Rolls-Royces, which were finished in the same lovely colors. As the Great Depression took its toll on the home, as it did on most large estates, the Park Drag was finally parted with in the mid-1930s. It was acquired directly from the Twomblys by The Stables, one of Washington, D.C.'s most prominent restaurants during the FDR years. In the care of noted Washington stable master Francis Hannan, the coach regularly appeared on the streets of the capital, carrying well-connected dinner patrons between the city's finest hotels and the front door of The Stables. Becoming something of a D.C. landmark in its own right, the coach was reportedly utilized in four presidential inaugural parades. When The Stables finally ceased to use the Park Drag, it was restored to its original condition by Robert Kaetzel and Michael Dixon, of Brownsville, Maryland, following research undertaken by Dr. H.K. Sowles, former secretary-treasurer of the Carriage Association. It then became the centerpiece of exhibits at the Rose Hill Manor Carriage Museum in Frederick, Maryland, before its acquisition by the present owner, a prominent collector of Brewster-built vehicles, a quarter century ago. The Park Drag has been fully reconditioned for reliable use, including the installation of new bearings and a full inspection and service, and it has made appearances in Newport, in support of the preservation of the renowned Cliff Walk "cottages," including the Twomblys' own Vinland. Vinland has now become McAuley Hall, part of Salve Regina University, while Florham, where the Park Drag once served, is owned by Fairleigh Dickson University, in what is now called Florham Park, New Jersey. These great American castles are now largely inaccessible to the public, and they are certainly not available for sale. The carriage that served them, and a great American family, is an artifact of the Twombly and Vanderbilt legacies, and therefore, it is an evocative part of New York social history. This Park Drag of Florham is offered in New York City with considerable pride of place. This lot will be offered on a Bill of Sale.
CATALOGUE DESCRIPTION FROM RM SOTHEBY'S
The Classic Valuer has X of this car on the site...
The average price of this car is...
Check out the trend line on the graph above - the dotted grey one.
It'll show you the price trend previously and where it might be going.
Because, well, why not...?

The Hobbit has been published in two editions. In the first edition, Gollum willingly bet on his ring in the riddle game.