This page is normally for our premium subscribers only.
We've given you 1 free view of a price guide page.
Join our premium membership to view further price guide pages.
1936 Auburn Eight Custom Phaeton Sedan
None of this model have sold at our auctions.
Check back soon to see if one has gone under the hammer.
The dotted grey line shows you this model (Auburn - Eight's) trend over time. Each circle represents a sale.
The details of this Auburn Eight
Exchange Rate Guidance: They're calculated based on exchange rates on the day of the auction. Converted from local currency to GBP, USD and EUR
AUCTION
AUCTION DATE
1936 Auburn Eight Custom Phaeton Sedan
LOT DESCRIPTION
PRICE GBP
PRICE USD
CHASSIS NUMBER
PRICE EUR
ODOMETER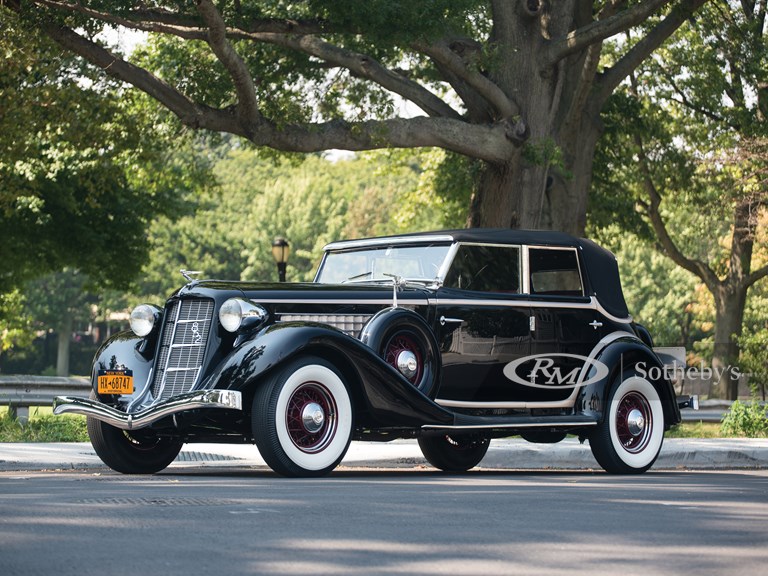 The Auburn Automobile Company was established in 1903 and matured into a well-respected builder of reliable cars, but it was not until E.L. Cord assumed the company's presidency in 1924 that its market stature grew. In fact, as the once-buoyant auto market collapsed following Black Tuesday, Auburn's sales continued to increase. By 1931, Auburn was the 13th largest American automaker, but the triumph was short-lived, as sales fell drastically in 1932 and 1933. Respected Auburn designer Al Leamy left Auburn in 1934, as he was saddled with the undeserved responsibility for the company's disappointing sales figures. With few available funds and little time, Gordon Buehrig and his small design staff kept the best elements of Leamy's 1934 designs. Buehrig's team concentrated on the frontal area by skillfully revising the grille and adding a pair of handsome "semi-pontoon" front fenders. However, despite great styling, good performance, and bargain pricing, the combined effects of the Great Depression, management turmoil, and E.L. Cord's complex business affairs led to Auburn's demise in 1937. The handsome phaeton sedan offered here was acquired by the current owner from Gene Morocco of Machesney Park, Illinois. Mr. Morocco had owned the car since 1972, when he acquired it from the family of the original owner in Northern California; it had been off the road and unregistered since the 1950s. The owner completed the restoration begun by Mr. Morocco, finishing the car in an original Auburn color scheme, black with an Artillery Grey beltline, and a complementary interior with rubber floor mats. As a Custom model the car is desirably equipped with the Dual Ratio two-speed rear axle, which makes it much more long-legged for comfortable touring. This would be a wonderful automobile for experiencing a wide range of available events with the Auburn Cord Duesenberg (ACD) Club and Classic Car Club of America (CCCA).
CATALOGUE DESCRIPTION FROM RM SOTHEBY'S
The Classic Valuer has X of this car on the site...
The average price of this car is...
Check out the trend line on the graph above - the dotted grey one.
It'll show you the price trend previously and where it might be going.
Because, well, why not...?

Until the 1980s, it was illegal for a woman to drive a car down Main Street in Waynesboro, Virginia, unless her husband was walking in front of the car waving a red flag.