This page is normally for our premium subscribers only.
We've given you 1 free view of a price guide page.
Join our premium membership to view further price guide pages.
1961 Aston Martin DB4 GT by Touring
None of this model have sold at our auctions.
Check back soon to see if one has gone under the hammer.
The dotted grey line shows you this model (Aston Martin - DB4GT's) trend over time. Each circle represents a sale.
The details of this Aston Martin DB4GT
Exchange Rate Guidance: They're calculated based on exchange rates on the day of the auction. Converted from local currency to GBP, USD and EUR
AUCTION
AUCTION DATE
1961 Aston Martin DB4 GT by Touring
LOT DESCRIPTION
PRICE GBP
PRICE USD
CHASSIS NUMBER
PRICE EUR
ODOMETER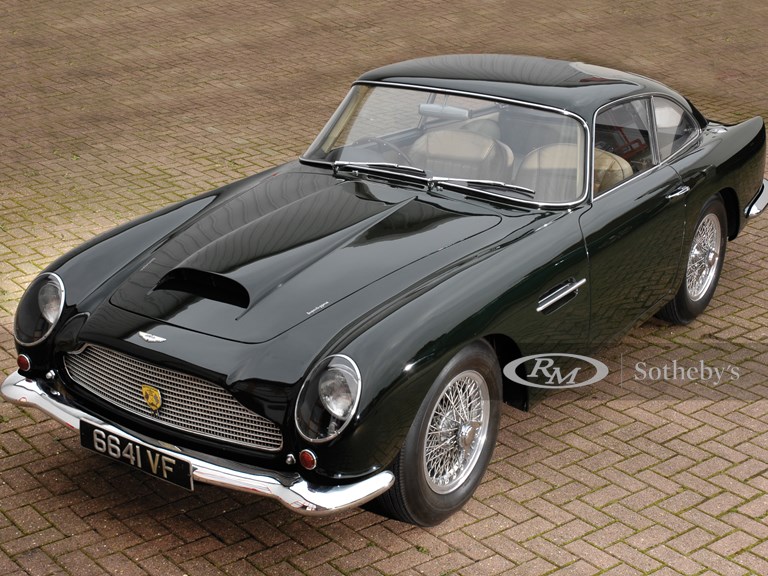 302 bhp, 3,670 cc twin plug dual overhead camshaft alloy engine with three Weber 45 DCOE carburettors, four-speed synchromesh alloy-cased close ratio gearbox, four-wheel coil-spring suspension, and four-wheel Girling disc brakes. Wheelbase: 2,362 mm • One of 75 GT examples built • Matching numbers, highly original RHD example • Triple Weber carburetted, 3.7-litre engine • Original colour combination of Goodwood Green over original Fawn interior • Recent service and known history The Aston Martin DB4 was unveiled at the 1958 Paris Salon. A totally new car, the introduction of the DB4 was a significant achievement for the small British manufacturer. The specification included a completely new steel platform chassis, with disc brakes all around, and a freshly developed alloy twin-cam 3.7-litre straight-six engine, all clothed in an elegantly proportioned fastback aluminium body designed by Touring of Milan. Overall, the DB4 was state-of-the-art for its time, a masterpiece of robust British engineering in combination with exquisite Italian styling. Of all the post-war Aston Martins, Sir David Brown's gracefully sleek DB4 is certainly one of the most admired. The chassis was engineered under the watchful eye of Harold Beech and features independent front suspension and a live rear axle well located by trailing arms and a Watt's linkage. The body construction utilises the vaunted Touring Superleggera process, which consists of a skeleton made up from small diameter steel tubing covered by hand-formed aluminium alloy body panels. Aston Martin constructed the coachwork under license from Touring at its newly deployed facility in Newport Pagnell. The competition variant of the Aston Martin DB4, the DB4 GT, was formally introduced in September 1959 at the London Motor Show. It was developed for increased performance by making it shorter, lighter and more powerful. In order to save weight, the wheelbase was reduced by about five inches. Altogether, weight was reduced by 91 kg (200 lbs). The engine was extensively modified, featuring a higher compression (9:1) twin plug cylinder head and breathing through triple dual-throat Weber 45 DCOE carburettors. Power output was outstanding: 302 bhp at 6,000 rpm, a useful increase from the claimed 240 bhp of the standard car, qualifying the GT as the most powerful British car of its era. Maximum speed was 153 mph with a zero to 60 time of 6.1 seconds. It was also one of the first cars that could go from standstill to 100 mph and then brake to a dead stop in less than 20 seconds, attributable, in part, to its upgraded Girling braking system, as used on Aston's competition sports racers of the era. Outwardly, the GT is distinguished by faired-in headlamps, a feature that was later made standard for the DB5 model. The rear screen and quarter windows were made of Plexiglas on many examples; bumper overriders were deleted, and the roll-down windows were frameless within the doors. Twin, competition-style, quick-release "Monza" fuel fillers were added atop each of the rear wings, leading to a high-capacity fuel tank mounted in the boot. The immense performance and excellent road holding of the DB4 GT renders it an ideal car for the fast, long distance driver. DB4 GTs represented a strong challenge to the dominance of Ferrari in FIA racing and enjoyed considerable success, raced from 1959 by both the works team as well as John Ogier's Essex Racing Stable. Driven by the likes of Roy Salvadori, Stirling Moss, Jim Clark and Innes Ireland, these rare lightweight GTs earned their stripes on the racing circuits of the world. According to its heritage certificate, this matching-numbers example, chassis DB4GT/0145/R, was manufactured in April 1961 and sold new through London Aston Martin agent Brooklands of Bond Street to its first owner, Mr. Mark Garnier of Sheffield, who kept the car for some five years until 1966. It was ordered in Goodwood Green with Fawn leather interior, the same combination it is presented in today. The accompanying log book lists the second owner as Snuff Mill Garages Ltd. Sheffield, the proprietor of which, Mr. J.L. Shipman, is understood to have used the car as his personal transport, as evidenced by correspondence between him and the Aston Martin Newport Pagnell works from 1966 to 1968. The car saw little use between 1968 and the late 1980s. In fact, the file contains an MoT certificate dated 28 June, 1979 (mileage reading 9,368), which was issued by Snuff Mill Garages and signed by Mr. Shipman. The next change of ownership is in July 1988 whereupon Mr. Richard Quigley of South Zeal, Okehampton took possession of the GT, purchased from Snuff Mill Garages. Mr. Quigley retained the car until 2003/4 and subsequently sold it to Mr. Robert Jewers of Hutton, Brentwood. 6641 VF is considered to be one of the more original DB4 GTs, and as far as we are aware the chassis has never been welded, and the engine bay is correct in every detail aside from a set of replacement ignition coils and a hand-made stainless steel exhaust system, which are possibly the only non-original components fitted to this car. 6641 VF retains its correct 12-plug cylinder head, triple 45 DCOE Weber carburettors and original engine block, as well as the original Fawn interior, Perspex windows, light units, headlamp cowls and spare wheel straps. Understood to drive well, the vendor has recently commissioned a full service and a recent re-spray of the bodywork in its original shade of Goodwood Green. The brightwork has been re-chromed, and attention has been paid to the original leather interior to have it cleaned and fully detailed whilst retaining its originality. A report from marque expert Richard Williams will be supplied within the history file. A total of 75 examples were produced with this car being built midway through production. Forty-five were supplied in right-hand drive form, and the remaining 30 were built to left-hand drive specification. The DB4 GT still proves to be one of the most competitive and desirable grand touring cars of all time and would be a fantastic addition to any serious car collection. Today the car is presented in good all around condition and must be one of the very few DB4 GTs remaining unrestored, supplied with build sheets, factory supplement hand book, an assortment of MOTs and tax discs, as well as its original buff log book. This is an unrepeatable opportunity, as the DB4 GT is arguably the most elegant and simultaneously sporting Aston Martin to date.
CATALOGUE DESCRIPTION FROM RM SOTHEBY'S
The Classic Valuer has X of this car on the site...
The average price of this car is...
Check out the trend line on the graph above - the dotted grey one.
It'll show you the price trend previously and where it might be going.
A smorgasbord of other cars to do whatever you want to do with.