This page is normally for our premium subscribers only.
We've given you 1 free view of a price guide page.
Join our premium membership to view further price guide pages.
None of this model have sold at our auctions.
Check back soon to see if one has gone under the hammer.
The dotted grey line shows you this model (Aston Martin - DB4's) trend over time. Each circle represents a sale.
The details of this Aston Martin DB4
Exchange Rate Guidance: They're calculated based on exchange rates on the day of the auction. Converted from local currency to GBP, USD and EUR
AUCTION
AUCTION DATE
LOT DESCRIPTION
PRICE GBP
PRICE USD
CHASSIS NUMBER
PRICE EUR
ODOMETER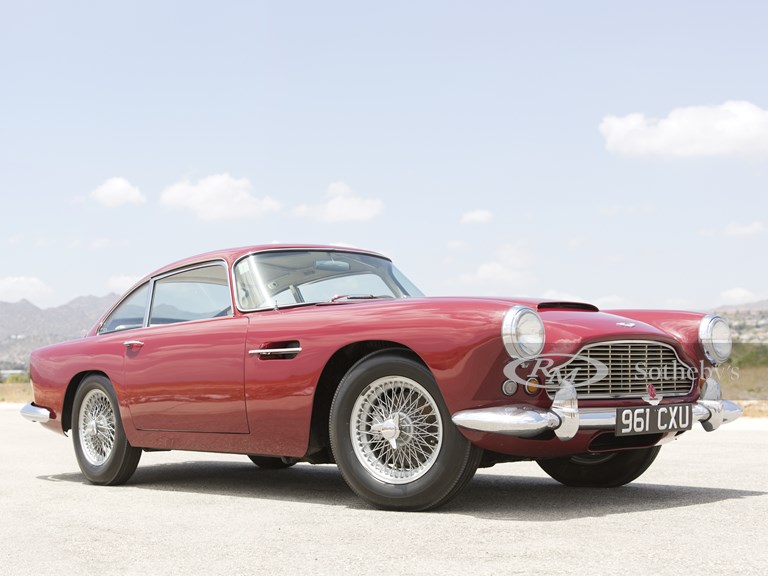 240 bhp, 3,670 cc DOHC inline six-cylinder engine, dual SU carburetors, four-speed David Brown manual gearbox with overdrive, independent front suspension with upper and lower control arms, coil springs, and an anti-roll bar, live rear axle with Watt's linkage, trailing links, and coil springs, and four-wheel, servo-assisted hydraulic disc brakes. Wheelbase: 98 in. The DB4 was introduced in 1958 as the long-anticipated replacement to the DB Mark III, but it was markedly different from the car it replaced. As the first Aston Martin to be constructed at the firm's new Newport Pagnell factory, it would utilize a number of brand-new components and manufacturing processes that would become staples of Aston Martin, particularly cars produced at Newport Pagnell in the future. Virtually every major component under the car's attractive Carrozzeria Touring-designed bodywork was new. Harold Beach designed the chassis, which would be Aston Martin's first pressed-steel-type frame. The engine was a 3.7-liter, twin-cam inline-six boasting an aluminum block and head, and it was designed by renowned engineer Tadek Marek. The car was rated at 240 horsepower in standard form, and it featured David Brown's own four-speed manual gearbox. It was also fitted with Dunlop disc brakes at all four corners and rack-and-pinion steering. As the DB4 underwent numerous running changes throughout its five-year lifespan, the AMOC Register has separated DB4s into five series, which roughly correspond to many differences in their configurations. To many, the most desirable was the Series IV. These were the last of the "original proportion" DB4s, and they featured a new grille with seven vertical bars, the rear lights were recessed into the bodywork, and the car's bonnet scoop was lowered. This series of DB4s was also the first to offer an overdrive transmission option, making it much more comfortable to drive on the highway for long periods of time and helping to make the car a wonderful grand tourer. This particular Series IV DB4 was delivered new to Mary Handley-Page, of Chesterfield Gardens, London, in January 1962. It was a right-hand-drive model that was finished in Show Shadow Grey over a white gold interior. It was fitted with numerous optional extras, including overdrive, Marchal head lamps and fog lamps, twin SU-type HD8 carburetors, and Amstrong shock absorbers, amongst others. As it was ordered with such a sporty array of options, there was no doubt that it was going to a proper motoring enthusiast. Mary Handley-Page was the wife of Sir Frederick Handley-Page, a British industrialist who founded Handley-Page Limited, a company known for producing large aircraft, including the Halifax bomber that was used by the Royal Air Force during the Second World War. She frequently entered RAC rallies, drove for the Sunbeam Works team from 1958 to 1960, and drove on the Rallye Monte Carlo in 1958, 1959, and 1961 in her Sunbeam Rapier. While it is not known how long Mary Handley-Page owned her Aston Martin, she did put almost 14,000 miles on the car in her first 18 months of ownership, according to service records on the Aston Martin build sheet. By 1978, the car was owned by a Mr. T. Perry, of Essex, and then it was purchased by a Brian Hatson. It is believed that Hatson commissioned a full concours-level restoration of the car to its current red over tan, left-hand-drive configuration in the early 1980s. The car's restoration was complete as of 1981, and Hatson showed the car at a variety of concours events with the Aston Martin Owners Club in 1981 and 1982, where the car received numerous accolades, proving the high quality of its restoration. Hatson decided to sell the car, and it was purchased by Robert Murray MacGregor, of London, on June 14, 1984, who also took pleasure in showing the car at AMOC concours events in the UK. The car was very well received at all these events, and it continued to win awards until 1987. Some of the AMOC plaques commemorating its awards are displayed on the car's glove box door. A document from Aston Service Dorset, dated June 30, 1988, attests to the incredible condition of the car, stating that "in all probability, it is the finest and best conditioned car of its type in the world." Its last private owner in the UK was John Anthony Smith, of Wareham, who purchased the car on April 13, 1989. Bob Pond purchased this DB4 from Taylor & Crawley Ltd., of London, in November 1990 for $85,000, and he immediately shipped it stateside. The car arrived in California the following month, and it has remained there ever since. This remarkably well-documented and charming DB4 comes with its Aston Martin build sheet and BMIHT Certificate, as well as numerous service invoices and registration documents, which date back to 1976, and a photo album documenting the car's restoration. The car has been well preserved in Pond's collection, and it was recently mechanically serviced by Aston Martin specialists, to ensure that it drives and functions as it should. The brake system was repaired, new fuel lines were fitted, the carburetors were rebuilt, and the engine was tuned and fitted with new plugs, wires, and filters, amongst other minor work. Receipts for the service total over $13,000, and they will be included with the sale. It is important to note that even though this DB4 has been serviced prior to sale, it is advised that more comprehensive sorting will be required before road use. With a captivating history, which includes ownership by a well-known female rally driver, the car shows very well and would surely be a fantastic Sunday driver, allowing a family of four to experience the thrills of classic British motoring. This DB4 has been part of the Pond Collection for almost 24 years, and it is ready to write the next chapter in its life, which has already proven to be nothing short of fascinating.
CATALOGUE DESCRIPTION FROM RM SOTHEBY'S
The Classic Valuer has X of this car on the site...
The average price of this car is...
Check out the trend line on the graph above - the dotted grey one.
It'll show you the price trend previously and where it might be going.
Because, well, why not...?

The logo for Chupa Chups was designed by Salvador Dalí.