This page is normally for our premium subscribers only.
We've given you 1 free view of a price guide page.
Join our premium membership to view further price guide pages.
1956 Arnolt-Bristol DeLuxe Roadster by Bertone
None of this model have sold at our auctions.
Check back soon to see if one has gone under the hammer.
The dotted grey line shows you this model (Arnolt - Bristol Deluxe's) trend over time. Each circle represents a sale.
The details of this Arnolt Bristol Deluxe
Exchange Rate Guidance: They're calculated based on exchange rates on the day of the auction. Converted from local currency to GBP, USD and EUR
AUCTION
AUCTION DATE
1956 Arnolt-Bristol DeLuxe Roadster by Bertone
LOT DESCRIPTION
PRICE GBP
PRICE USD
CHASSIS NUMBER
PRICE EUR
ODOMETER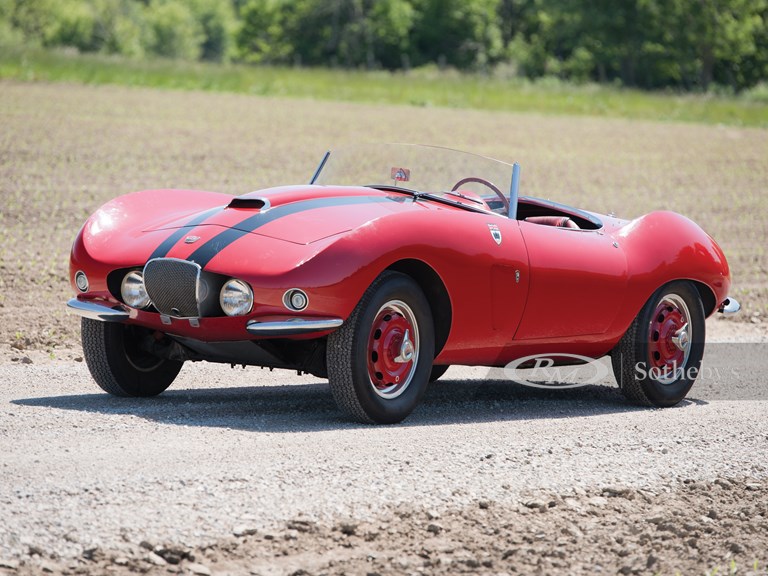 130 bhp 1,971 cc inline six-cylinder engine, four-speed manual transmission, independent front suspension with wishbone and traverse-mounted leaf springs, torsion bars to the live rear axle, and four-wheel Alfin drum brakes. Wheelbase: 96 in. The 1950s was a magic period in the development of the sports car. Regulations were few, and a post-World War II economic boom opened many possibilities. Britain led the charge with volume exports and was closely followed by Germany and Italy, but there was also no shortage of American ingenuity, which set about making homegrown sporting machines. One such carmaker-to-be was Stanley Harold "Wacky" Arnolt. Like many Americans, Arnolt bought an MG TC after the war, and as he was impressed with it, he subsequently set up a car dealership and import company in downtown Chicago, where you could buy any of several British marques, including MG, Morris, Aston Martin, Rolls-Royce, and even Bristol. However, Arnolt's ambition exceeded merely selling other makers' cars. On a business trip to the Turin Auto Show in 1952, Arnolt met Nuccio Bertone at a time when the Italian coachbuilder was near bankruptcy, which could have easily ended the auto designer's business. Arnolt was impressed with the two MG TD-based cars that Bertone had bodied, and he reversed Bertone's fortunes when he placed an order for 200 like them. These cars subsequently became known as the Arnolt MG. However, before Bertone could complete the contracted cars, MG discontinued the TD upon which it was based, and only about half of the planned quantity was ever made. Arnolt then began looking for a replacement chassis, eventually settling on the Bristol 404 series chassis and its 130-brake horsepower, 1,971-cubic centimeter six-cylinder engine. Arnolt purchased complete driving chassis Bristols that were then delivered to Bertone's Turin factory. There, they received a body that was a design masterpiece of Franco Scaglione, who would go on to design the wild, aerodynamic B.A.T. show cars. The tall engine and carburetors of the Bristol 404 made it difficult to give the car the desired low-slung look, but Scaglione managed to disguise the height of the engine by giving the car a raised hood scoop, swooping front fenders that curved into a grille area, and closely set headlights that flanked a small grille. It was introduced to the public at the London Motor Show in the fall of 1953, and the first Arnolt-Bristols arrived in the U.S.A. early in 1954. Arnolt sought to underscore the car's sporting prowess by personally racing one to a class win at Watkins Glen, and he followed that with entering three examples in the 1955 Sebring 12-hour race, where they finished 1st, 2nd, and 4th in class, to win the team trophy. Arnolt-Bristols went on to further class wins at Sebring the following year and again in 1960. Privately owned Arnolt-Bristols also dominated the SCCA E-Production classes for many years and collected innumerable trophies along the way. They are now fully VSCCA eligible for vintage events, and some are still actively raced. The Arnolt-Bristol combined a British chassis and running gear with Italian styling and construction and American money and sales, making it more expensive than the Corvette, and ultimately, production ended in 1959, after only 142 cars were built. The Arnolt-Bristol DeLuxe Roadster offered here was delivered and titled in 1959. The original test of its standard, BMW-derived 328, 1.9-liter, six-cylinder engine was completed on July 23, 1954, at the Bristol factory in England. The body was completed by Bertone in Turin on January 25, 1957, and the completed car was subsequently shipped to Chicago on the SS Calista. It is one of the last twenty examples produced, and it was originally finished in silver with a navy interior and black top. Interestingly enough, Wacky Arnolt is reported to have personally driven this car for several months prior to selling it to its first owner, Doug Buchannan of Nebraska, in 1959. Buchannan was also reportedly the last customer to receive a car with one of only five sets of Borrani knock-off wheels that Arnolt had custom made for his racing team. Of the five cars that received these wheels, it is believed that only three survive today. Buchannan had the car painted a dark red metallic and reupholstered the interior in black in 1968. After having maintained and enjoyed this Roadster for nearly 30 years, he sold it to noted collector Gene Ponder in the 1990s. Ponder painted the car in its current shade of red and upholstered the interior in red/black with a tan top and tonneau. The Arnolt-Bristol has since participated on the Colorado Grand, the California Mille, and the Pebble Beach Motoring Classic, and it has been shown multiple times, including at The Quail and various concours. Since being acquired by the current owner in 2007, it has been under the mechanical care of DL George Coachworks in Pennsylvania. During this time, the unique gear-operated top was refurbished, as were the brakes, to ensure dependable touring. Additionally, they completed a significant mechanical service of the car prior to its last tour, which amounted to approximately $115,000. The rare Borrani wheels were also fitted with new Dunlop tires. Included with the car are numerous spare parts, including a Bristol 2.2-liter (406) engine, a correct and complete gearbox, and a correct overdrive unit (not currently installed), as well as books, brochures, and a history file. The Arnolt-Bristol is a rare and striking performance car that is enthusiastically welcomed in virtually any vintage event, but more than that, it is a historic artifact that recalls a time when the possibilities were wide open, a vision could be made tangible, and talented and inspired men were brought together to create something beautiful and thrilling that transcended their generation. This magnificent automobile is a window to a magic era, and one that can provide enjoyment and inspiration to any who see it or are lucky enough to drive it.
CATALOGUE DESCRIPTION FROM RM SOTHEBY'S
The Classic Valuer has X of this car on the site...
The average price of this car is...
Check out the trend line on the graph above - the dotted grey one.
It'll show you the price trend previously and where it might be going.
Because, well, why not...?

Your tonsils can grow back if there was tissue left behind during the removal process. Sometimes it's accidental, other times it's left on purpose.